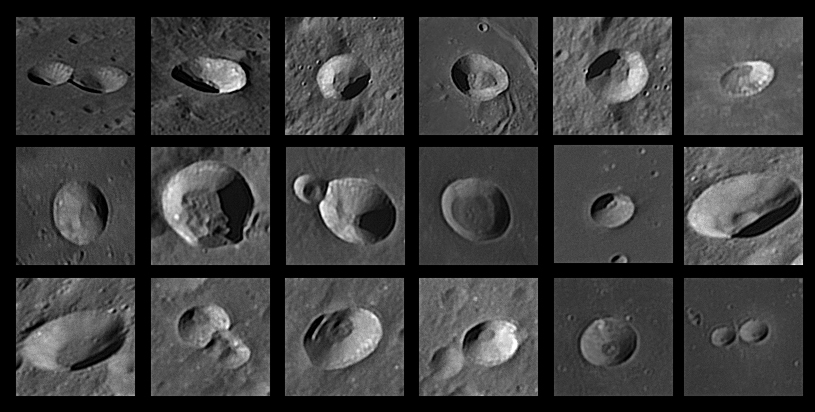 Search for soil structure in small craters.
Because the cameras are getting better you can see more details in small crater bottoms.
Combination of smaller sensitive pixels, high gray depth and fast shutter speed makes it possible to observe the inner wall structure in small craters of eg 6-15 km.
I have gathered some observations of smaller craters of recent years.
It is a section of full frame observations, the crater varies from 6 to 15 km in diameter.
The best thing is to observe a high sunrise where the sun is as high as possible, but not too high, a small shadow of a crater is desirable.
Normally you will observe close to the terminator, but to see the structure in small crater is better because not to do.
At a distance of at least 600 km from the terminator is already good.
From 30 degrees south to 30 degrees north you can most beautifully see the craters because they are quite flat, over 30 degrees you have a perspective making the crater ellipse and you look straight into the crater.
As far as perceiving small craters.
The series I've made, see several small craters.
What is noticeable is that in some crater walls a stripe structure can be seen, probably due to ejecta when the crater originated.
The lines in the crater wall all walk to the center of the crater, as far as I can see, this is about young craters, respectively.
Also striking is that they have a central mountain, very small but present. Also striking is that in some crater there are even 2 central mountains.
With older small craters you can see almost no crater structure, they are quite flat and often already studded with very small impacts.
From left to right:
1 FONTENELLE F, C
2 EPIGENES A
3 DESCARTES A
4 CASSINI A
5 DESCARTES A
6 EGEDE A
7 HORTENSIUS
8 THEBIT A
9 BIRT, A
10 NICOLLET
11 PICO E
12 DOVE A
13 BRENNER F
14 ROTHMANN H, J
15 PICCOLOMINI D
16 POLYBIUS B
17 PICO E
18 PLATO KA, A

If you are in the opportunity, it is worthwhile to observe this.